Jurassic World: Dominion Dominates Fandom Wikis - The Loop
Play Sound
Stub (issue: please add the missing numbers for Shareholder, Global Player, Perfect Commercial Break, 3 Ships in Every Garage, Floating Cigar, War is the Father of All Things, Under the Radar and Special Flotsam )

This article is a

stub

, an article too short to provide more than rudimentary information about a subject. You can help the Anno 2070 Wiki by

expanding it

.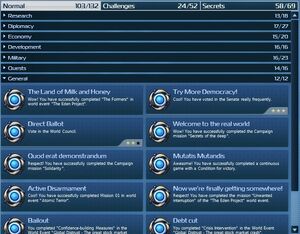 Achievements in Anno 2070 are acknowledgements of player skill and effort. They offer no practical in-game benefits but do provide bragging rights and may unlock titles, player colors, or ubisoft points. Each achievement also can have multiple levels.
When you unlock an achievement the game displays a message with its icon on the bottom of the screen.
There are 223 achievements in total in the game, which are divided into three categories.
Normal (132)

[

]
Research (18)
[
]
Achievement
Requirements
Title / Item Acquired
UPlay Points
Big Badaboom!
Use Detonators Items. Levels: 10, 100, 250
-
-
Everything's Under Control!

Use Disaster Management Items. Levels: 10, 100, 250

Note: Effluent Pumps and other items used to clear Oil Spills seem to be the only items that count for this purpose.

-
-
Starfish Prime
Use EMP Items. Levels: 10, 100, 250
-
-
... To seek our fortunes in far-off lands.
Use Expeditions Items. Levels: 10, 100, 250
-
-
Clear for Boarding!
Use Boarding Crew Items. Levels: 10, 100, 250
-
-
Undercover
Use Covert Operation Items. Levels: 10, 100, 250

Note: This refers to ID Anonymizers

-
-
Dig Deeper!
Use Resource Development Items. Levels: 10, 100, 250
-
-
Green Thumbs
Use Seeds Items. Levels: 10, 100, 250
-
-
Untouchable
Use Shields Items. Levels: 10, 100, 250

Note: This refers to the AT Projectile Barriers that you can find or purchase, but not the Kinetic Barriers that you can research

-
-
Please Open Your Bags

Use Toll Wares Items. Levels: 10,100, 250

Note: Like Seeds, these have to be activated in the Warehouse.

-
-
Parlay!
Use White Flag Items. Levels: 10, 100, 250
-
-
Research That Produces Nothing Other Than Books Will Not Suffice
Develop Modules. Levels: 1, 100, 250, 500, 1000
-
-
Eureka!
Research Technologies. Levels: 1, 100, 250, 500, 1000
-
-
Buttonmasher
Use Items. Levels: 1, 100, 250, 500, 1000
-
-
Unweaving the Rainbow
Build Academies. Levels: 10, 100, 250
-
-
Small Item, Big Impact
Use an Ark upgrade.
-
-
Diplomacy (27)
[
]
| Achievement | Requirements | UPlay Points |
| --- | --- | --- |
| Battleship Discounters | Buy Ships from Third Parties. Levels: 10, 100, 500 | - |
| I Am the State | Take advantage of World Council actions. Levels: 10, 100, 250 | - |
| Import | Buy Goods from Third Parties. Levels: 1000, 10.000, 100.000 | - |
| Export | Sell Goods to Third Parties. Levels: 1000, 10.000, 100.000 | - |
| An Offer He Couldn't Refuse | Buy Items from Third Parties. Levels: 10, 100, 1000 | - |
| Floating Clearance Sale | Sell Items to Trenchcoat. Levels: 10, 100, 1000 | - |
| A Kind Word Opens the Door | Use agreements. Levels: 10, 100, 250, 500, 1000 | - |
| Can You Spare a Credit? | Use the Demand Credits agreement. Levels: 5, 50, 150 | - |
| Do You Collect Points? | Use the Price Dumping agreement. Levels: 5, 50, 150 | - |
| Under the Counter | Use the Increased Demand agreement. Levels: 5, 50, 150 | - |
| Did Somebody Call For Backup? | Use the Auxiliary Fleet agreement. Levels: 5, 50, 150 | - |
| Open Source | Use the License Trading agreement. Levels: 5, 50, 150 | - |
| Greed is Good. Greed is Right. Greed Works. | Use the Investment agreement. Levels: 5, 50, 150 | - |
| A Pound of Flesh | Use the Take Out a Loan agreement. Levels: 5, 50, 150 | - |
| For the Initiative! | Complete Quests for Yana Rodriguez. Levels: 25, 75, 150 | - |
| For the Corporation! | Complete Quests for Rufus Thorne. Levels: 25, 75, 150 | - |
| We need to know. We will know. | Complete Quests for Prof. Dr. Salman Devi. Levels: 25, 75, 150 | - |
| Against Organized Power, There is Only Organized Power. | Complete Quests for Seamus Green. Levels: 10, 30, 60 | - |
| The Social Responsibility of Business is to Increase its Profits | Complete Quests for Skylar Banes. Levels: 10, 30, 60 | - |
| He Who Does Not Fight Has Already Lost | Complete Quests for Leon Moreau. Levels: 25, 75, 150 | - |
| I Am a Family Man | Complete Quests for Vadim Sokow. Levels: 25, 75, 150 | - |
| Talent Works, Genius Creates | Complete Quests for Dr. Tori Bartok. Levels: 25, 75, 150 | - |
| Technology Should Not Replace Human Ability | Complete Quests for Tilda Jorgensen. Levels: 25, 75, 150 | - |
| Come What May | Complete Quests for Thor Strindberg. Levels: 25, 75, 150 | - |
| Skeptics Always Require a Certain Isolation | Complete Quests for Hiro Ebashi. Levels: 25, 75, 150 | - |
| No Stranger to the Authorities | Complete Quests for Trenchcoat. Levels: 25, 75, 150 | - |
| Tell Them Retaliation is My Trade | Complete Quests for Hector. Levels: 25, 75, 125 | - |
Economy (20)
[
]
| Achievement | Requirements | Title / Item Acquired | UPlay Points |
| --- | --- | --- | --- |
| Home Delivery | Take advantage of your Ark's express delivery. Levels: 1, 50, 250 | - | - |
| Money Doesn't Stink | Accumulate Credits. Levels: 100.000, 500.000, 1.000.000 | - | - |
| Nothing Spoils My Day More Than Losses | Achieve the following Balance. Levels: 1000, 5000, 10.000 | - | - |
| You Have to Haggle! | Achieve the following Trade Income. Levels: 100.000, 500.000, 1.000.000 | - | - |
| It Was Worth it to Me | Achieve the following Trade Costs. Levels: 100.000, 500.000, 1.000.000 | - | - |
| Everthing From One Source | Produce Final Goods. Levels: 1000, 500.000, 1.000.000 | - | - |
| Get Well Soon! | Produce Pharmaceuticals. Levels: 1000, 10.000, 100.000 | - | - |
| Toward Gold Throng All, To Gold Cling All, Yes, All! | Produce Jewelry. Levels: 1000, 10.000, 100.000 | - | - |
| A Direct-to-Holo Production | Produce 3D Projectors. Levels: 1000, 10.000, 100.000 | - | - |
| The Era of Meat is Coming to an End | Produce Service Bots. Levels: 1000, 10.000, 100.000 | - | - |
| Hamster in a wheel | Generate Energy. Levels: 500, 1500, 5000 | - | - |
| Radiant Prospects | Generate Energy using only Nuclear Power Plants.(Warehouses don't count despite generating some energy) | - | - |
| ... And Nights Are For Sleep! | Generate Energy using only Solar Tower Generators. (Warehouses don't count despite generating some energy) | - | - |
| Monster chain[1] | Produce Bionic Suits. Levels: 1, 250, 1000 | - | - |
| A scientist is only as good as their tools[1] | Produce Laboratory Instruments. Levels: 1, 250, 1000 | - | - |
| Shareholder[1] | Purchase Shares in one of your own islands. Levels: -, 20, 50 | - | - |
| Global Player[1] | Purchase Shares in a foreign island. Levels: -, 20, 50 | - | - |
| 3, 2, 1, done![1] | Acquire islands through Hostile takeovers. Levels: 1, 5, 20 | - | - |
| Transfer master[1] | Transfer energy via Energy Transmitters. Levels: 1, 1000, 10.000 | - | - |
| The future of industry[1] | Produce each and every Genius good. | - | - |
Development (16)
[
]
Achievement
Requirements
Title / Item Acquired
UPlay Points
Ready for the Island
Settle Islands. Levels: 10, 50, 100, 250, 500
-
10
Nice and Quiet Down Here
Settle Underwater plateaus. Levels: 10, 50, 100, 250, 500
-
20
Cradle of Civilization
Achieve the following total Population. Levels: 5000, 10.000, 50.000
-
-
The Future is Green!
Reach Eco Executives. Levels: 1, 5000, 10.000
-
-
Economic Power
Reach Tycoon Executives. Levels: 1, 5000, 10.000
-
-
Knowledge is Power
Reach Researchers. Levels: 1, 2500, 5000
-
-
A Perfect Commercial Break
Use Information buildings to influence Residences. Levels: -, -, 350
-
-
Water off!
Build Hydroelectric Power Plants. Levels: 1, 50, 150
-
-
Out of Sight, Out of Mind
Build CO2 Reservoirs. Levels: 1, 50, 150
-
-
To The Sun, To Freedom
Build Solar Tower Generators. Levels: 1, 50, 150
-
-
Back to Nature
Achieve an optimum Ecobalance on one of your Islands.

Color: Light green







Portrait: Leon Moreau

-
The Price of Growth
Achieve a catastrophically poor Ecobalance on one of your Islands.
-
-
Gateway to the World

Build every Harbor Building: Quay wall, Port Authority, Harbor Defense Turret, Harbor Depot, Repair Dock and Clearance Terminal.

-
-
911
Build every Disaster Control Building: Fire Station, Hospital and Police Station.
-
-
Look, a real genius![1]
Achieve Geniuses. Levels: 1, 1000, 5000
Title: Doctoral advisor
-
Forces from the deep[1]
Build Geothermic Power Plants. Levels: 1, 25, 50
-
-
Military (23)
[
]
Achievement
Requirements
Title / Item Acquired
UPlay Points
Nanosuites For Everyone

Produce High Tech Weapons. Levels: 1000, 10.000, 100.000

-
-
Tower on E7
Move a Defense Turret to another location.
-
-
How About a Nice Game of Chess?
Build Missile Launch Pads. Levels: 1, 50, 150
-
-
Three Ships in Every Garage
Build Vehicles. Levels: 100, 250, 1000, 5000, -
-
-
I Christen You... "Unsinkable II"
Build Ships. Levels: 1, 100, 1000
-
-
Floating Cigar
Build Submarines. Levels: 1, 100, -
-
-
High-Flyer
Build Aircraft. Levels: 1, 100, 1000
-
-
War is The Father of All Things
Destroy enemy Vehicles. Levels: 100, 250, 1000, 5000, -
-
-
Patrol
Destroy enemy Ships. Levels: 1, 100, 1000
-
-
And Never Come Back!
Destroy enemy Submarines. Levels: 1, 100, 1000
-
-
What Goes Up, Must Come Down
Destroy enemy Aircraft. Levels: 1, 100, 1000
-
-
Wrecking Crew
Destroy enemy Buildings. Levels: 100, 1000, 10.000
-
-
What Was Once Yours Is Now Mine
Take over enemy Trade Buildings. Levels: 1, 50, 250
-
-
And Don't Forget It!
Defeat Third Parties. Levels: 1, 25, 50
-
-
All Political Power Comes From the Barrel of a Gun
Use the Declare War agreement. Levels: 5, 50, 150
-
-
War Is Over, If You Want It
Use the Request Peace agreement. Levels: 5, 50, 150
-
-
The Principle of Hope
Use the Cease-fire agreement. Levels: 5, 50, 150
-
-
The Categorical Imperative
Use the Trading route right of protection agreement. Levels: 5, 50, 150
-
-
No One Has The Intention of Erecting a Wall!
Use the Civil Defense agreement. Levels: 5, 50, 150
-
The Arms Race
Produce Weapons. Levels: 1000, 10.000, 100.000
-
-
Missed! We Need an Even Bigger Explosion!
Produce Heavy Weapons. Levels: 1000, 5000, 100.000
-
-
Under the radar[1]
Use items of the type Silent Running. Levels: 10, -, -
-
-
Special Flotsam[1]
Use items of the type Naval Mine. Levels: 10, 100, -
Quests (16)
[
]
| Achievement | Requirements | Title / Item Acquired | UPlay Points |
| --- | --- | --- | --- |
| Be Prepared! | Complete Quests for Third Parties. Levels: 1, 10, 100, 500, 1000 | - | - |
| Did Someone Order Pizza? | Complete Quests from the category Delivery. Levels: 10, 100, 250 | - | - |
| You Can Never Fall In Love | Complete Quests from category Escort. Levels: 10, 100, 250 | - | - |
| Mercenary | Complete Quests from category Battle. Levels: 10, 100, 250 | - | - |
| Follow that Ship! | Complete Quests from category Hunting. Levels: 10, 100, 250 | - | - |
| Fiat Lux! | Complete Quests from category Underwater Recovery. Levels: 10, 100, 250 | - | - |
| The All-Seeing Eye | Complete Quests from category Picture Puzzle. Levels: 10, 100, 250 | - | - |
| Raiders of the Lost Flotsam | Complete Quests from category Recovery. Levels 10, 100, 250 | - | - |
| Contraband | Complete Quests from category Smuggler. Levels: 10, 100, 250 | - | - |
| Proclamations of John Frum | Complete Quests from category Race. Levels: 10, 100, 250 | - | - |
| Roadside Assistance | Complete Quests from category Recovery. Levels: 10, 100, 250 | - | - |
| Grand Theft Ship | Complete Quests from category Looting expedition. Levels: 10, 100, 250 | - | - |
| A Good Deed Every Day! | Complete Quests from category Current events. Levels: 1, 50, 150 | - | - |
| Tortoise and Hare | Complete Quests form category Race. Levels: 10, 100, 250 | - | - |
| Now don't get lost[1] | Complete Convoy category quests. Levels: 10, 100, 250 | - | - |
| My boss, the machine[1] | Complete quests for F.A.T.H.E.R.. Levels: 10, 30, 60 | - | - |
General (12)
[
]
Challenges (52)

[

]
Achievement
Requirements
Title/Item Acquired
UPlay Points
The sins of the father
Complete Campaign Mission "Zero Hour".

Model: F.A.T.H.E.R. 1.0

40
Family tradition
Successfully complete the single mission "The Jorgensen Plateau".
Title: Poet
-
A New Start
Successfully complete the single mission "Return to C.O.R.E.".
Title: Honorary Doctor
-
Creation Ex Nihilo[2]
Successfully complete the single mission "Whatever It Takes".
Title: Tactician
-
Increase the Flow!
Successfully complete the single mission "Black Gold".
Title: Oil Baron / Oil Baroness
-
The Power Behind the Throne
Successfully complete the single mission "Power games".
Title: Grey emminence
-
For the Company[2]
Successfully complete the single mission "Free Market Economy".
Title: Financial Expert
-
Our Tomorrow Will Be Different If We Change Today
Complete the single mission "Architect of the future".
Title: Architect of the Future
-
Violence Begets Violence
Defeat Hector on the hard difficulty level

Portrait: Hector

Title: Pirate

Player Colour: Red

-
Sic transit gloria mundi
Defeat Keto on the hard difficulty level.

Portrait: Keto

Title: Mercenary

Player Colour: Rose

-
Over-exploitation
Consume all the resources on an island.

Portrait: Vadim Sokow

Player Colour: Coffee

-
Large Program Selection
Construct all three information buildings on one island.
Title: Media Mogul / Media Baroness
-
Faster, Higher, Further
Equip every slot on your ark with an item
Title: Mad Scientist
-
Race to the sky[2]
Build both monuments on the same island.

Portrait: Manager Russel

Title: Engineer

-
Project World Ethic[2]
Have Eco Executives, Tycoon Executives and Researchers on the same island.

Portrait: Engineer Ryan

Title: Democrat

-
Homogenous Society
Attain Eco Executives, Tycoon Executives and Researchers each on a different island.

Portrait: Engineer Richard

Title: Dictator

-
Ground arms!
Successfully complete the world event "Atomic Terror".
Portrait: Scorpio
-
We'll Make a Name for Ourselves
Build a Monument.

Title: Master Builder

30
Pedal Yourself If Necessary
Generate 5,000 energy on one island. (Surplus)
-
-
Extensive Product Portfolio
Develop every module in the Laboratory.

Portrait: Lab assistant Trevor

Title: Hobby Inventor

-
The Entire Tech Tree
Explore the following technologies (see list in your profile or The Entire Tech Tree for a more detailed list.)

Portrait: Researcher Rodney

Title: Virtual Entity

Player Colour: Sky Blue

-
For Science
Discover the following formulas (see list in your profile).

Title: Genius

Player Colour: Purple

-
Too Good To Throw Away

Find the following items. Click to see item list.

These are found after sinking enemy ships (see list for which enemy supplies which item). Place the item in you warehouse to make the game register that you found it.

Portrait: Trenchcoat

Title: Collector

Player Colour: Pink

-
The Latest Technology

Use the Following Items (see list in your profile)

Equip these items on your ark to make the game register them for this achievement. All of them can be researched at the Academy, and are very rarely found as quest rewards.

Portrait: Hiro Ebashi

Title: Cyborg

-
Master Diplomat
Reach the highest career level for each faction.

Portrait: Manager Zack

Title: Master diplomat

Player Colour: Olive green

-
Who Is Active in Politics Strives for Power
Encounter every third party in the game.
Title: Celebrity
-
Full Gararge
Build every vehicle.
Title: Mechanic
-
In What Kind of Society Do We Want to Live?
Reach the inhabitants of every civilization level for all three factions.
Title: Futurist
-
Manufactory
Produce every item of goods in the game
Title: Industrial magnate
-
A Higher Power
Use every World Council action
Title: Lobbyist
-
Professional Solutions
Complete all the single missions.

Portrait: Thor Strindberg

Title: Expert

Player Colour: Beige

-
Do You Believe In Ghosts?
Complete the bonus mission "Ghost Hunter".
Title: Ghost Hunter
-
Best Friends Forever
Complete the bonus mission "New Development".
Title: Shaman
-
Iterative Process
Discover every prototype.
Title: Creator
-
There we go![3]
Cool! You have successfully completed the bonus mission "The long way there".
-
-
Green as steel[3]
Complete the single mission "Final Spurt".
-
-
The bonuses are guaranteed
Successfully complete the World Event "Global Distrust - The great stock market crash".
Formula: Energy Renovation
-
Boiling Point
Successfully complete the World Event "The Nordamark Border Conflict".

Formula: Orca - Reactor accelerator

Formula: Orca - Optimization kit

Title: Peacemaker

-
The Sea Covers 7/10 of the Earth's Surface, and the Sea Wind is Clean and Healthy
Complete "Initial findings" in the World Event "The Secret of the Ebashi Trench".
-
-
Monument Collector[1]
Build all three Monuments.
-
-
The Holy Trinity[1]
Build all three Monuments on a single island.
-
-
To the rescue, again[1]
Complete the Miracle in Danger mission Illusion's End.
-
-
Recovered Engineering[1]
Complete the Miracle in Danger mini-campaign.

Formula: Extended Sensoric Interface







Title: Miraculous savior

-
Gathered Elite[1]
Settle Geniuses, Tycoon Executives and Eco Executives on the same island.
-
-
Flatlander[1]
Keep at last 1000 Geniuses supplied for 30 minutes without using a single Mine.

(Metal Converters, Rotary Excavators, and CO2 Reservoirs do not count against this achievement)

-
-
Dependence celebrated[1]

Keep at last 1000 Geniuses supplied for 30 minutes without using a single Energy Production Building.

(Warehouses don't count despite generating some energy)

-
-
The end of the flagpole[1]
Build a Science Forum.
Portrait: Egon
-
Fighter for environment[1]
Complete the single mission "Environmental Warriors" successfully.
-
-
For the future[1]
Complete the single mission "The Future of Research" successfully.
-
-
From up here everything looks so small[1]
Complete the single mission "Monumentality" successfully.
-
-
Secrets (69)

[

]
Achievement
Requirements
Title/Item Acquired
UPlay Points
Kaneeeeeda!
Name one of your cities Neo Tokyo.
-
-
Comprehensive Transportation Order
Create a Trade route with 10 stops.
-
-
There Is No Ship
Name one of your Ships Nebuchadnezzar.
-
-
Treeship
Name one of your Ships Yggdrasill.
-
-
Ride the Tiger
Name one of your Submarines Holy Diver.
-
-
Laalaalaa-laa-lala-lala-lalaa
Name one of your Submarines Yellow.
-
-
From the Sand
Name one of your Airships Phoenix.
-
-
The Princess Who Loved insects
Name one of your Airships Seagull.
-
-
Console Cowboy
Name one of your Cities Chiba.
-
-
Six-Pack
Have 6 Choppers on one Airport.
-
-
No Spaces Allowed
Use every single slot in the right click menu, also fill the 2 rows of the action bar.
-
-
The Great Coodinator
Create 100 trade routes (cumulative over multiple games).[4]
-
-
Short Time
Shut at least five buildings down for 10 minutes.
-
-
The Target Has Been Met
Shut down 50 buildings.
-
-
Police State
Build 10 Police Stations in one game.
-
-
Our Electrical Grid Can Take It!
Play 10 minutes with a critical energy level (on one island).
-
-
Force of Habit
Build 10 Fisheries on a single island.
-
-
Sledgehammer to Crack a Nut
Destroy precisely one object with a long-range missile.
-
-
Warning Shot
Launch a long-range missile without destroying anything.
-
-
Because I Can Afford It
Build a Tycoon Monument and demolish it.
-
-
Doesn't Fit Into the Landscape
Build an Eco Monument and demolish it.
-
-
Energy Turnaround
Build and demolish 5 Nuclear power plants.
-
-
We wanted to Hold the World Surfing Competition Inland
Build and demolish a Hydroelectric power plant.
-
-
Lights On, Lights Off
Change media program and create a Power shortage.
-
-
Action Hero
Complete a quest in the last 10 seconds.
-
-
Time is Money
Accelerate game speed for 100 minutes.
-
-
Spring at Last! (NA)
Jump already! (EU)
Use Dive special action on submarines 100 times (cumulative over multiple games).
-
-
Zapper
Change media programs 50 times.
-
-
Can hold His Breath for Ten Minutes
Spend 10 minutes at one time the under water camera view.
-
-
Training Complete
Receive all Data log entries. See incomplete list here.
-
-
Say: Cheeeeese
Take 100 screenshots.
-
-
Deal with it Yourself
Refuse 100 missions.
-
-
The Big Orange
Name one of your Cities New New York.
-
-
Incorrigible
Name one of your cities Bonanza Creek.
-
-
Awakened World
Name one of your Cities Megaplex.
-
-
Cultured

Name one of your ships Absence of Gravitas. (May require copy/pasting with ctrl+c and ctrl+v due to name length).

-
-
Classic
Name one of your ships Santa Maria.
-
-
Man Alive
Name one of your ships Tomorrow.
-
-
Hail Eris!
Name one of your Submarines Leif Erickson.
-
-
If you stare in the abyss for long, enough it stares back into you.
Name one of your Submarines Montana.
-
-
Welcome to Kittyhawk
Name one of your Airships Flyer 1.
-
-
X-Prize
Name one of your Airships SpaceShipOne.
-
-
Exothermic Reaction
Have 10 lab accidents in one game.
-
-
Restricted Area
Have a serious accident at a nuclear power plant.
-
-
Give Me Back My Armies!
Lose 100 units (cumulative over multiple games).
-
-
Prairie Sun
Fell 10,000 trees.
-
-
No radiation leaked!
Experience 10 Nuclear power incidents.
-
-
Bad Attitude
Reach 2,000 dissatisfied residents.
-
-
Neighborhood Barbecue
Have 10 of your buildings burning (save/nuke your city/load!).
-
-
Flu Epidemic
Reach 10 Buildings with sickness.
-
-
Bad neighborhood
Reach 10 building with criminals at the same time.
-
-
Let's Swim in Oil
Trigger an oil spill by sinking a tanker.
-
-
Better a Living Coward the a dead hero
Pay 25,000 in tribute to Hector. Make peace with him and wait for him to ask for money to keep the peace 3x10,000.
-
-
Through Hell
Be affected by pretty well every disaster at least once. (Specifically - Fire, Disastrous Fire (more than 10 houses), Crime, Disastrous Crime, Catastrophic Disease, Nuclear Power Plant Incident and a Disastrous Oil Spill.
-
-
The Grass Looked Greener Over There
Relocate your Ark.
-
-
Green is the color[3]
Build a Covered towncenter of the Ecos.
-
-
Summer Town
Build 500 Summer trees.
-
-
Thanks for the Flowers
Plant 100 Flowerbeds.
-
-
It's a green world after all[3]
You have built all Eden buildings.
-
-
Tycoon all the way through[3]

Build all of the Distrust buildings.

-
-
Autumn in the city

Build 500 Autumn trees.

-
-
Closing out sale! Sale! Everything must go![3]
Build all four of the Shopping Mall buildings.
-
-
Flawless[3]
Build a Covered towncenter of the Tycoons.
-
-
Flying the Flag
You always show the correct flag. Build the Eden and the Global Trust Flagpole I.
-
-
Harbour Master[3]
Build all ornamental harbour buildings.
-
-
Light, dark and light again[3]
Use all of the Lighthouse's functions for changing the times of day
-
-
Tsunami[1]
Face a Tsunami.
-
-
I whipped a little something up[1]
You have completed all the preparations for repairs to the Geothermal power plant. (This achievement requires to complete Miracle in Danger - Saving A Miracle. You must complete all 4 prior missions to unlock this hidden achievement.)
-
-
The depths of logistics[1]
Set up an underwater trading route.
-
-