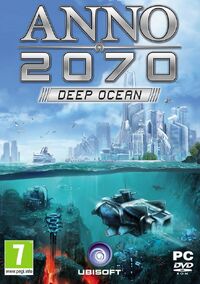 "Anno 2070, last year's entry in Ubisoft's long-running RTS series, gets a major expansion this Autumn, the publisher announced.
Titled Deep Ocean, it adds a new civilization level, with the Tech faction expanded by the Genius class.
The new class offers access to the new Tech Monument, corresponding production chains and consumption goods.
You can also expect new vehicles and items, which will allow you to develop industries, strengthen your economy and exploit new resources. See the new screens below for a closer look."

Anno 2070 - Deep Ocean is the add-on of Anno 2070. It's the most extensive add-on ever created for an Anno game, including a new civilization level (the Geniuses) and the longest production chain in the history of Anno.
Features
[
]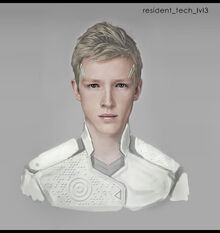 For the first time in history of the Anno series, an add-on brings a new civilization level: the Tech faction is expanded by the Genius population class. They require neuroimplants, immunity drugs, laboratory instruments, and bionic suits. To produce these goods, new fertilities have been added, particularly to the underwater islands: coral, sponges, lithium, platinum and enzymes. In total, the expansion features a total of four new needs: two for the Genius, and two for the Researchers.
About bionic suits: they make the Geniuses euphoric and they generate massive taxes. However, to provide the bionic suits you need a production chain with four steps - the longest production chain in the history of Anno. Both biopolymers and omega acids are needed in this chain, so the player either has to trade for them or acquire both factions' executives to gain access to the buildings producing them.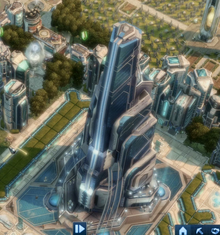 Besides the new production chains, the Geniuses add further innovations and improvements to the game. Finally, you can build a Tech monument: the Science Forum. F.A.T.H.E.R. 2.0 will contact you from here to announce special tasks, like Skylar Banes or Seamus Green. Furthermore, this monument has a very special ability: it opens up all building restrictions on the island, so players can optimize their cities even more. The Expansion adds over 50 new buildings, including Tech Ornamental buildings.
In addition, the Geniuses improve the logistics on deep sea islands with defense platforms that defends the above-water level of an undersea island against attacks, an underwater receiving dock that expands the construction area and raises your storage capacity and two new vehicles: the transport submarine Sisyphus, which is dedicated to recover large amounts of goods from great depths, and a new Tech ship, the Atlas, which is able to carry and refuel aircrafts.
The new underwater trade routes also prove to be very helpful. Every route can be classified as an underwater trade route, so that submarines assigned to it will prefer underwater transport. If a trade route contains only underwater stops, the submarines will remain submerged continuously; when approaching a warehouse on land, they will only emerge in the harbour area. This new functionality has some strategic implications regarding disturbance of trade routes eg. in multiplayer (for example making patroling submarines necessary).
Energy Transfer is also of central importance. It is enabled with the Energy Transmitter. However, Energy Transfer is very expensive. Furthermore, there are several new items added, like Sea Mines, Missile Shields, the Silent Running System Module which makes the visualisation of submarines invisible to your opponents, and improvements for Ornamental Buildings. The Academy's menu is renewed and improved and Hostile Takeover function similar to the one in Anno 1404 Venice is added as well.
Storyline and quests
[
]
Following the events of the last World Event, Hiro Ebashi makes a trailblazing breakthrough at the bottom of the Ebashi Trench: he introducec Geothermic Power Plants as a new energy solution. It has to be built under water and it generates a whopping 750 energy! However, Geothermic Power Plants may cause a dangerous new disaster: the Tsunami. All scenarios, features and events of the Add-On are based on this discovery by Ebashi-San. In a five-mission mini-campaign, called "Miracle in Danger", the threat of the tsunami-causing Geothermic Power Plants must be dispelled as you
learn about the new gameplay mechanic. Three new Single Missions have been added as well.
In addition, more than 150 new quests have been added, along with over 30 new achievements. There is also a new quest type, "Convoy". There are new rewards for each faction's career ladder. You are also able to access player comparison via new leaderboards.
Design and texture
[
]
Futher important optimisations of the underwater world affected the designs of underwater buildings. To get a unique and atmospheric enviroment, underwater buildings display a smaller variety of colours; everything is bathed in a mystic blue shading. This has the side effect of rendering it hard to distinguish underwater buildings. As the Add-On introduces numerous new production facilities, the effects, animations and light settings for new and old production buildings are optimized to make it easier to distinguinsh and identify them as separate production chains.
Product Description
[
]
The following product description was found on ubi forums:
In the depth of the ocean, hidden in overgrown stones for years, the Techs unleash their ultimate power: the geothermal energy generation. The most powerful tool of the future forces the world of 2070 to expand their explorations into the deep blue sea, becoming the focus of gameplay, underwater plateaus setting offers new industries and large production chains and formerly unknown resources.
This succes elevates the Techs to a new level: The Genius population. They assert themselves even over the sea's surface. Impressive monuments, various new buildings, and recent demands strengthen their position.
Underwater exploration and exploitation will require you to take advantage of your environment mastering a brand new resource, using both diplomacy and trade as your most powerful weapons to make your civilization thrive in this hostile environment.
Bound to islands lost to the deep blue sea you will have to conquer remaining stretches of land, and dive underwater to create a futuristic submerged industry supporting your expanding economy.
To nurture your supremacy, build new buildings, erect monuments, open power plants, exploit exclusive energy fonts, develop underwater trading routes... evolve, grow, and gain access to a new civilization development stage getting control of the advanced Genius population.
Even though evolution is at the very heart of the gameplay, don't underestimate your environment. You might be confronted to devastating natural disasters such as a tsunami which could tip the balance in your detriment!
Release Date and Price
[
]
Deep Ocean was released on october 4th, 2012. The standard price on Steam is €10. The Expansion is available in the form of an extra game part you must buy in the local game shop or online shops. Although it cannot be used to install the Expansion, in some locations there will be a disc included in the box.
Retail Version
[
]
The retail version of Deep Ocean only includes an activation code and no disc.
Minimum System Requirements
[
]
OS: Windows® XP (SP3) / Vista (SP2) / 7 (SP1)
CPU: Intel DualCore 2Ghz or equivalent
RAM: 2 GB RAM
GPU: DirectX® 9.0c compatible mit 512 MB with Shader 3.0 (or equivalent)
Minimum disc space: 5 GB
DVD-ROM: Only needed for installation
Soundcard: DirectX® 9.0c compatible
DirectX®: Version 9.0c
Input Devices: Mouse, Keyboard
Slideshows
[
]
Underwater World
[
]
Tech Cities
[
]
Concept Arts
[
]
Videos
[
]
Sources
[
]