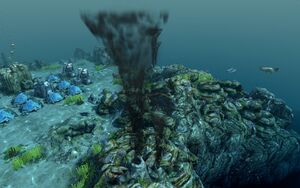 Introduction
[
]
A Black Smoker, also known as a raw material deposit for the Metal Converter, is an Underwater phenomenon which happens on most underwater plateaus. The Black Smoker will "smoke" Black material out into the sea, similar to an oil spill, but it doesn't cause any damage. It will cease activity after a certain period of time after the player has attained Researchers in a city. Normally the countdown is about 10 hours, but it can also be up to 20 hours. Once the black smoker ceases activity, it will leave behind a raw material deposit which can be mined in unlimited amounts with a Metal Converter. When the black smoker ceases its "smoking", one of the following fertilities can appear: Uranium, Copper, Iron Ore, Diamonds, Manganese Nodules, Gold Nuggets. Please note that the Diamond and Manganese Nodule fertilities aren't minable by a Metal Converter.
Manually stopping a Black Smoker
[
]
Usually, the Black Smoker will cease activity after a certain period of time after researchers are in residence on any island, but the player can stop it manually in two ways.

Method 1: Fine Chemicals
[
]
| | | |
| --- | --- | --- |
| | Fine Chemicals | |

Construction Cost
1500

 ·

15

 ·

10

Effect
Stops the activity of a Black Smoker.

Description
Complicated, but effective!

Development Time
45:00

Development Risk
15%

Unlock
1 Researcher
The Fine Chemicals is a Laboratory Module  that will instantly end the activity of a Black Smoker on an Underwater Island once activated. After ending the activity af a Black Smoker the Underwater Island will develop a random (Iron, Copper, Gold, Uranium) Raw Material deposit.
Method 2: Academy Technologies
[
]
It is also possible to manually stop the activity of a Black Smoker by developing these technologies in the Academy  under "Fertilities and Resources" (all of which require 3 Fine Chemicals to develop):
Please note that these items are not longer available in the Deep Ocean expansion.
Type
Quality
Icon
Name
Effect
Description
Costs

Aurogenic Chemicals
:

Gold
Nuggets

... and down deep: the Gold!
8,500

 ·

250

 ·

20

 ·

25

 ·

3

Uranogenic Chemicals
: Uranium
The Deposits are far from being exhausted!
8,500

 ·

250

 ·

20

 ·

25

 ·

3

Cuprogenic Chemicals
: Copper
Demand for Copper continues!
8,500

 ·

250

 ·

20

 ·

25

 ·

3

Ferrogenic Chemicals
: Iron Ore
The seabed is rich in Iron ore!
8,500

 ·

250

 ·

20

 ·

25

 ·

3

Manganogenic Chemicals
: Manganese
There are many Deposits worth mining under the sea...
8,500

 ·

250

 ·

20

 ·

25

 ·

3

Carbonogenic Chemicals
: Diamonds
Treasures from the bowels of the Earth.
8,500

 ·

250

 ·

20

 ·

25

 ·

3
Black Smokers in the Deep Ocean Expansion
[
]
In the Deep Ocean expansion, black smokers no longer stop smoking, and there are no academy items to turn a Black Smoker into a particular resource. Instead, you construct Metal Converters of any type near a Black Smoker to mine metals.