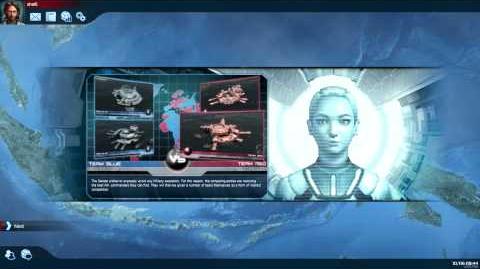 The Domination Mode is a special multiplayer game mode.
In this game mode, two teams, a red and a blue one, with a maximum of five players try to get more points than the other team. You get points by completing a series of missions.
Creating a New Game
Edit
If you create a new game by yourself, you configure a few settings:
The name of the game
The maximum of players per team
The duration of the game
The daytime limit
If the time may be accelerated during the missions
If you want to allow open access
In which map you want to play
Scoring & Control
Edit
The two teams gain points by completing the levels of each mission 'node' in succession, usually one per level but sometimes more depending on the difficulty of the mission and the position of the node. If one team is the first to reach a new level then they gain control of that node and can play all missions adjacent to that node. If the node is already controlled, then the other team needs to complete a level higher than what the controlling team has completed in order to control the node i.e. if the blue team has completed level 3 of a mission node then the red team must complete level 4 in order to gain control. Being in control of a node also gives the controlling team a 5, 10 or sometimes even 15 point bonus depending on the difficulty of the mission and its location relative to the starting point.
There are 17 maps available in the Domination Chapter.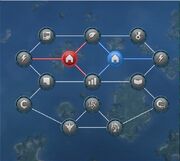 Focus: Variety
Max Team Size: 5 Players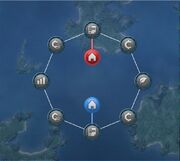 Expedition
Edit
Focus: Third Parties
Max Team Size: 5 Players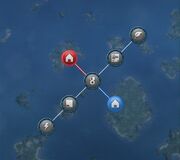 Pearl Necklace
Edit
Focus: Third Parties
Max Team Size: 4 Players
Focus: Variety
Max Team Size: 5 Players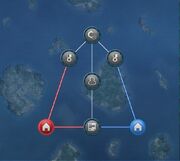 Focus: Military
Max Team Size: 5 Players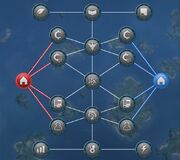 Focus: Variety
Max Team Size: 5 Players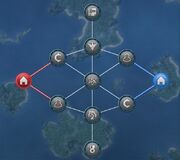 Focus: Inhabitants
Max Team Size: 5 Players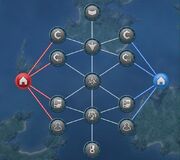 Domination
Edit
Focus: Variety
Max Team Size: 5 Players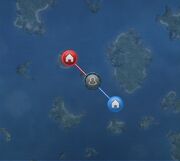 Focus: Inhabitants
Max Team Size: 4 Players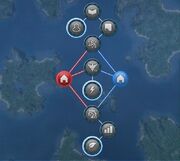 Focus: Inhabitants
Max Team Size:5 Players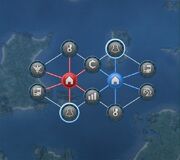 Focus: Military
Max Team Size: 5 Players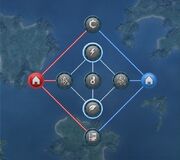 Focus: Military
Max Team Size: 5 Players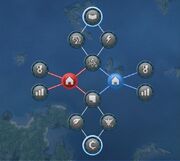 Focus: Economy
Max Team Size: 5 Players
Back Door
Edit
Focus: Economy
Max Team Size: 5 Players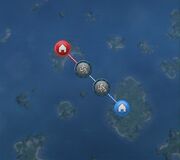 Focus: Inhabitants
Max Team Size: 4 Players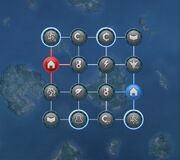 Focus: Variety
Max Team Size: 5 Players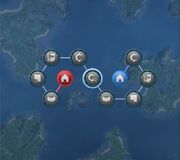 Focus: Third Parties
Max Team Size: 4 Players