The Engine.ini is a text file where the Anno game preferences are found. These preferences can easily be changed and modified.
--To access the demo Engine.ini file type "ANNO 2070 DEMO" in run rather than "ANNO 2070"--
How to Access the Engine.ini File
Edit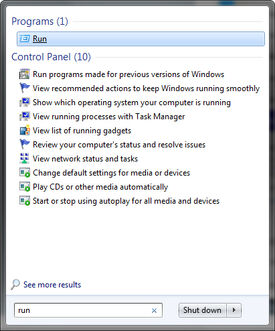 Or use the "Win+R" keyboard shortcut.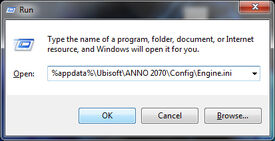 Here is the line to copy and paste into the run command line:
%appdata%\Ubisoft\ANNO 2070\Config\Engine.ini
It will work even if you cannot find the file manually through explorer.
Example of How to Modify the Engine.ini File
Edit
For example, the default/original settings for:
<EnableFourthCamPosition>0</EnableFourthCamPosition>
Change to:
<EnableFourthCamPosition>1</EnableFourthCamPosition>

<SkipIntro>1</SkipIntro> : will skip the intro movie

<MouseScroll>10</MouseScroll> : change the mouse scroll speed

<KeyboardScroll>10</KeyboardScroll> : change the keyboard scroll speed
<RE_Bloom>0</RE_Bloom> : Activate/Deactivate the bloom effect

Then save the Engine.ini file, and start the game.
Comparison
Edit
Modification Comparisons
Bloom

Enabled

Disabled
Example contents
Edit
Below is an example of the contents of Engine.ini.

<InitFile><ScreenXSize>1920</ScreenXSize>
<ScreenYSize>1080</ScreenYSize>
<LastScreenXSize>1024</LastScreenXSize>
<LastScreenYSize>768</LastScreenYSize>
<ScreenDepth>32</ScreenDepth>
<ScreenFormat>0</ScreenFormat>
<RefreshRate>0</RefreshRate>
<AspectRatio>0.000000</AspectRatio>
<ResizableWindow>0</ResizableWindow>
<NoWindowFrame>0</NoWindowFrame>
<Gamma>1.000000</Gamma>
<AlwaysShowWaterSurface>0</AlwaysShowWaterSurface>
<RE_Device>0</RE_Device>
<RE_VSync>0</RE_VSync>
<RE_Cloud>0</RE_Cloud>
<RE_Framebuffer_Refraction>1</RE_Framebuffer_Refraction>
<RE_TerrainRenderMode>0</RE_TerrainRenderMode>
<UseDDSTextures>1</UseDDSTextures>
<DirectXVersion>0</DirectXVersion>
<EnableTextureMemoryManagement>1</EnableTextureMemoryManagement>
<EnableModelMemoryManagement>1</EnableModelMemoryManagement>
<PreloadShaders>1</PreloadShaders>
<EnableRenderEngineScheduler>1</EnableRenderEngineScheduler>
<QualityLevel>0</QualityLevel>
<RE_Anisotropic>0;0;1;2;0</RE_Anisotropic>
<RE_Antialiasing>0;1;1;1;0</RE_Antialiasing>
<RE_Effects>0;1;2;2;0</RE_Effects>
<RE_Force>0;0;1;1;0</RE_Force>
<RE_Lighting>0;1;2;2;0</RE_Lighting>
<RE_MaxObjectLOD>0;1;2;2;0</RE_MaxObjectLOD>
<RE_PostEffects>0;0;1;2;0</RE_PostEffects>
<RE_Reflection>0;0;1;1;0</RE_Reflection>
<RE_Refraction>0;0;1;1;0</RE_Refraction>
<RE_Scattering>1;1;2;2;1</RE_Scattering>
<RE_Shadows>0;1;2;2;0</RE_Shadows>
<RE_Terrain>0;1;2;2;0</RE_Terrain>
<RE_TextureManager>2;1;0;0;2</RE_TextureManager>
<RE_Water>1;2;3;3;1</RE_Water>
<EnableUtilization>0</EnableUtilization>
<EnableFPS>0</EnableFPS>
<EnableGUIWarning>0</EnableGUIWarning>
<EnableAI>1</EnableAI>
<LanguageTAG>eng</LanguageTAG>
<Multithreading>1</Multithreading>
<PreferLocalFiles>0</PreferLocalFiles>
<EnableWatchThreads>0</EnableWatchThreads>
<EnableMainMenuPreloading>1</EnableMainMenuPreloading>
<EnableFPPPreloading>0</EnableFPPPreloading>
<PreloadAll>0</PreloadAll>
<RecordCFGCache>0</RecordCFGCache>
<ScriptFilename>Console.ini</ScriptFilename>
<RenderTransportRoute>1</RenderTransportRoute>
<SkipIntro>0</SkipIntro>
<MinimapRotation>1</MinimapRotation>
<EnableTimeDisplay>1</EnableTimeDisplay>
<EnableInfoMode>1</EnableInfoMode>
<AutoSaveCount>3</AutoSaveCount>
<GameSpeed>14</GameSpeed>
<SaveReplay>1</SaveReplay>
<AutoQuestReminder>1</AutoQuestReminder>
<ProfileName></ProfileName>
<HardwareCursor>1</HardwareCursor>
<MouseScroll>10</MouseScroll>
<KeyboardScroll>10</KeyboardScroll>
<MouseSpeed>10</MouseSpeed>
<LockCamera>1</LockCamera>
<EnableZoom>1</EnableZoom>
<CheckCameraDistance>1</CheckCameraDistance>
<EnableConsole>1</EnableConsole>
<TimePerChar>88</TimePerChar>
<EnableFourthCamPosition>0</EnableFourthCamPosition>
<MinimapTexResX>64</MinimapTexResX>
<MinimapTexResY>64</MinimapTexResY>
<EnableLargeFOV>0</EnableLargeFOV>
<m_PickHighlightEnabled>1</m_PickHighlightEnabled>
<VolumeMain>990</VolumeMain>
<VolumeAmbiente>500</VolumeAmbiente>
<VolumeSpeech>500</VolumeSpeech>
<VolumeMusic>500</VolumeMusic>
<VolumeSound>500</VolumeSound>
<VolumeMsg>500</VolumeMsg>
<VolumeAck>500</VolumeAck>
<SoundSystem>0</SoundSystem>
<SoundSystemOutput>0</SoundSystemOutput>
<SoundDriver>0</SoundDriver>
<SoundEnableBink>0</SoundEnableBink>
<FilterEventMsg>0</FilterEventMsg>
<FilterEconomyMsg>0</FilterEconomyMsg>
<FilterDiplomacyMsg>0</FilterDiplomacyMsg>
<FilterResidentMsg>0</FilterResidentMsg>
<FilterExplorationMsg>0</FilterExplorationMsg>
<FilterResearchMsg>0</FilterResearchMsg>
<FilterMilitaryMsg>0</FilterMilitaryMsg>
<CheckSumEnabled>0</CheckSumEnabled>
<StopOnCheckSumError>0</StopOnCheckSumError>
<CheckSumErrorCount>2</CheckSumErrorCount>
<IsLogFileOn>0</IsLogFileOn>
<KIServerPort>5479</KIServerPort>
<KIBuildLimitation>1</KIBuildLimitation>
<RenderDebugBlock>0</RenderDebugBlock>
<ShowAssert>0</ShowAssert>
<DisableHPTimer>0</DisableHPTimer>
<SyncTraceDisabled>0</SyncTraceDisabled>
<WriteMiniDumps>2</WriteMiniDumps>
<SyncTraceLogFolder>\\rds.local\data\anno5\12_SyncTraces</SyncTraceLogFolder>
<ScreenshotFormat>0</ScreenshotFormat>
<ScreenshotWidth>0</ScreenshotWidth>
<ScreenshotHeight>0</ScreenshotHeight>
<UbiSurveyTime>7527795</UbiSurveyTime>
<EnableInGameThreadLoading>1</EnableInGameThreadLoading>
<EnableThreadLoading>0</EnableThreadLoading>
<FixedSun>1</FixedSun>
<FeedbackQualityLevel>0</FeedbackQualityLevel>
<m_waitForPlayerTimeout>5000</m_waitForPlayerTimeout>
<LastUserName></LastUserName>
</InitFile>