| | | |
| --- | --- | --- |
| | Hiro Ebashi | |




Characteristics
Introverted, tranquil
Personality
Passive
Diplomatic Actions
Lobbying, Price Dumping, Take out a loan, License trading, Technology Scanner
Influence Factors
+ Don't research a lot, don't settle underwater plateaus


- Research a lot, expand on underwater plateaus, build underwater depots
"My name is Dr. Hiro Ebashi. My team and I are dedicated to the exploration of the deep sea. That is all you need to know about us."
—Hiro Ebashi in the game lobby
Doctor Hiro Ebashi is a neutral NPC and the leader of the Ebashi Trench Observatory (E.T.O.). This low-key marine researcher likes to keep to himself. Anyone who enters his refuge quickly arouses his displeasure. Still, he will support responsible researchers. His nickname is The Hermit.
Sometimes he is credited as Ebashi-San, with San being a Japanese suffix used as a formal sign of respect, similar to Mr. Ebashi in English.
In the official Soundtrack, there is a track called The Ebashi Trench Mystery.
Background
[
]
As revealed in the fifth world event by Dr. Devi, Hiro was once a member of the Science Council. However, he left S.A.A.T. due to disagreements about the direction S.A.A.T. was taking (according to Devi, most of the Science Council wanted to focus on profitable military research).
Hiro founded E.T.O., the Ebashi Trench Observatory, where he and a few other researchers examine the Ebashi Trench, a mysterious deep sea trench. In the fifth world event, Hiro Ebashi makes a trailblazing breakthrough at the bottom of this very trench and he and Dr. Devi bundle forces to build a prototype Geothermal Power Plant with your help.
In the Deep Ocean mini-campaign Miracle in Danger it's revealed that the Power Plant isn't as stable as it ought to be. It collapses and causes a tsunami, ruining Tilda Jorgensen's and Vadim Sokow's settlements. The whole mini-campaign, you help Hiro in rebuilding the settlements and eventually developing a technology which helps prevent the tsunamis.
By the time of Anno 2205, the incident is remembered as the "Ebashi Trench Disaster", which led to sudden and extreme swings in the global weather, and was one of the main causes of S.A.A.T.'s fall from grace. It also eventually caused the Eden Initiative to evolve into the Arctic Custodians, the ones who revived the Earth's polar caps.
Activities
[
]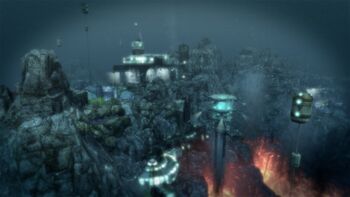 At his underwater base, E.T.O., Ebashi sells Submarines and various items. You can also sell submarines to him. He always offers one deep sea expedition item. Note that you'll need a submarine to trade with him and to complete most of his quests.
Interaction with other NPCs
[
]
As they still haven't settled their arguments, you'll often get quests from both Hiro Ebashi and Dr. Devi to sabotage the other.
Diplomacy
[
]
Being an advocate of careful, responsible research, Hiro's influence can be increased by increments of 10 by performing sporadic or no research, and by avoiding colonization of underwater plateaus. Rapid research by several academies or founding of underwater colonies may decrease influence by 10 points.
He offers the following diplomatic actions: Lobbying, Take out a loan, Price Dumping, License Trading and Technology Scanner. You can't declare war on him.
Price Dumping makes items bought from him cheaper.
Take out a loan offers you an immediate amount of cash, which will have to be repaid over the course of the next 60 minutes in the form of a temporary negative balance hit.
License Trading exchanges your credits in return for Licenses.
The Technology Scanner reveals one, two or three places on the map where Prototypes are hidden. But be aware, there are not unlimited places where you can find them. If you use his scanner many times, there will be no more places revealed.
Bonus Content
[
]
You are able to use Ebashi's portrait as your in-game appearance by gaining the achievement "The Latest Technology". You are also able to use his Player Color (Purple) by gaining the achievement "For Science!".
Character
[
]
"The discovery of this trench changed my life. I still can't tell you what is down there. But one thing I do know; there are bigger things out there, truths that no one would have thought possible."
—About himself
"My scientific philosophy is simple: there's a rational explanation for everything, and where it doesn't exist, well… We should revise our understanding of the laws of nature."
—About himself
"What I love most about the underwater world is the silence. It helps you find yourself..."
—About himself
"Science also brings responsibility with it, but look at S.A.A.T.'s ignorant, narcissistic posturing! Are people as unscrupulous as them to shape our future? I say: No! The establishment of E.T.O. was only the logical consequence."
—About E.T.O.
"Some sneer at us, consider us hermits and call us the "underwater monks". [Laughs] They have no idea what we have discovered down here!"
—About E.T.O.
"Our deep-sea observatory operates autonomously: Energy, Food, drinking water, oxygen... Contact with the outside world is practically unnecessary. But to be honest: It is the findings of our work that lead us to this isolation. The world is just not ready to hear them..."
—About E.T.O.
"Loyalty is a trait that I regard highly. When, however, one values it above all other traits as does Rufus Thorne, it can only mean bad news for outsiders."
—About Rufus Thorne
"Consistency, perseverance, conviction... Rufus Thorne does have qualities I admire in people. Nevertheless, he's nothing more than Global Trust's supreme and ultimate agent… And that makes him potentially dangerous."
—About Rufus Thorne
"The Eden Initiative is definitely on the right track. But I don't quite know what to make of Yana Rodriguez. She's enthusiastic, but somewhat volatile. Time will tell whether it was good or bad luck for the organization that she became their representative."
—About Yana Rodriguez
"Ever since we discovered the Ebashi deep-sea trench, many people have shown an interest in E.T.O., including Yana Rodriguez. She could be one of the few people trustworthy enough to one day be considered for a cooperative venture."
—About Yana Rodriguez
"Our modern society is responsible for the existence of the Barracuda League. As long as we continue to sideline the weak, people like Hector will fight back with all the means at their disposal."
—About Hector
"As long as the Barracuda League restricts their raids to the surface of the ocean, there's no cause for friction between them and E.T.O.. But with Hector gaining ever more influence over the Senate and the World Council, I fear this situation will soon change."
—About Hector
"I've heard of this traveling salesmen who calls himself Trenchcoat. He seems to reveal only that which is absolutely necessary. This trait is the only thing he shares with E.T.O.."
—About Trenchcoat
"I don't know Trenchcoat well enough to judge him. If he has secrets that he wants to remain hidden from others, he must have his reasons. I respect that, because I expect the same from my fellow man."
—About Trenchcoat
"Leon Moreau would like to force everyone to follow his own personal truth. But whether he is right or not, he will fail. One cannot impose a philosophy of life, it must fall on fertile ground and bear fruit in peace."
—About Leon Morreau
"Although I can understand the Green Offensive's motives, I categorically reject extremism. Revolutionaries like Leon Moreau will never understand that anyone who tries to change to the world through violence basically only wants to see their name on a monument."
—About Leon Morreau
"As long as there are companies like Sokow Transnational, fossil Fuels will always be in demand. Even the Reserves in the deep sea will soon be exhausted, even though alternative ways and means have long been available."
—About Vadim Sokow
"The burden that entrepreneurs like Vadim Sokow place upon future generations by their exploitation is enormous. But before that day arrives, Sokow is sure to have long since crept out of his responsibilities. How convenient…"
—About Vadim Sokow
"Tilda Jorgensen is one of the few who have realized that the dog-eat-dog competitiveness prevalent in our society has become outmoded. She may be little more than a child, but her wisdom puts us to shame."
—About Tilda Jorgensen
"Even the greatest of ideas began with one simple thought. Do not make fun of Tilda's ideals. If history has taught us anything, then it is that every great revolution was laughed at and ridiculed at its beginning."
—About Tilda Jorgensen
"I have tried explaining to Professor Devi time and time again the enormous responsibility of Science. But apparently his fear of losing funding and sponsors is far greater than his moral conscience."
—About Salman Devi
"Professor Devi is without doubt a brilliant Scientist. As a young doctoral candidate I truly admired his work. But now I've realized that even a great mind can fall prey to deluded ambition. Sad..."
—About Salman Devi
"Actually, I am rather surprised that E.T.O. has not yet come under attack from Westgate Security. I find it hard to imagine that Keto has not already been offered enormous sums of money to tear our secrets from us."
—About Keto
"Keto hunts the same way the large marine predators do. She silently circles her prey before suddenly striking with devastating force. Sometimes, when it is very quiet, we can hear the sounds of battle on the surface over our sonar."
—About Keto
"Thor Strindberg is an unfortunate man; he's a victim of our social system. He was once very successful and got near to the top, and though he sacrificed himself for his work, he has come crashing down and was then thrown on the scrapheap. No one can simply put something like that behind them."
—About Thor Strindberg
"I wonder what kind of childhood you must have had to become like Thor Strindberg."
—About Thor Strindberg
"Tori Bartok is brilliant and unconventional. She would really be a valuable addition to E.T.R.A.. I very much hope that one day she'll see things as they really are, and join us."
—About Tori Bartok
"There is much that binds Doctor Bartok to Professor Devi. That's why she doesn't want to see her life and work dictated by S.A.A.T.. I hope with all my heart that she'll one day realize that the freedom of mind she thinks she has is merely an illusion."
—About Tori Bartok