Jurassic World: Dominion Dominates Fandom Wikis - The Loop
Play Sound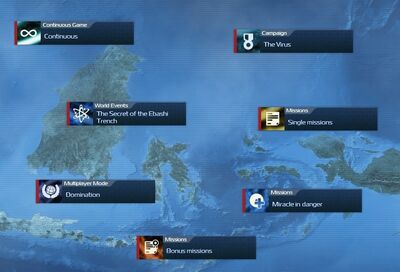 In Anno 2070, you are able to play different kinds of missions. This page gives an overview of all available missions in Anno 2070.
Continuous Game
[
]
For more information, see Continuous Game.
Continuous Games are endless games without pre-set goals. You can set the game objectives, starting conditions and NPCs yourself and you are free to expand your cities.
Please note that this is not a Sandbox Mode, where you have unlimited amounts of money and resources.
Campaign "The Virus"
[
]
For more information, see Campaign.
If you are new to Anno, it's a good idea to start with the Campaign. In the Campaign all game features are explained to the player while playing a story about a Virus in the super AI F.A.T.H.E.R..
Single Missions
[
]
For more information, see Single Missions.
You are also able to play ten single missions ranging from different objectives, like settling 2500 executives or rebuilding the research city C.O.R.E.. Please note that you require the Deep Ocean expansion in order to play three of the missions.
Global Events
[
]
For more information, see Global Events.
Global Events are groupings of three missions available to all players for a limited time. There are five World Events that have been released to date.
Domination Mode
[
]
For more information, see Domination Mode.
The Domination Mode is a special multiplayer-only mode in which you have to complete missions to gain points. The team which has the most points wins.
Add-On Tutorial "Miracle in Danger"
[
]
For more information, see Miracle in Danger.
Miracle in Danger is a mini-campaign which will explain all new features of the Deep Ocean expansion to you.