| | | |
| --- | --- | --- |
| | Professor Dr. Salman Devi | |




Characteristics
Logical, enthusiastic
Personality
Passive
Diplomatic Actions
Lobbying, Demand Quest, Increased Demand, License Trading, Auxiliary Fleet
Influence Factors
+Having a Tech population, enacting Tech buildings, focusing on submarines
"I'm so pleased to meet you at last. We are always interested in a progressive mind... Oh, please forgive me... Devi, Professor Devi, Head of Science at S.A.A.T. "
—Prof. Dr. Salman Devi in the game lobby
Prof. Dr. Salman Devi is a non-expanding NPC, the scientific director for the scientific organisation S.A.A.T. and the president of the same faction's Science Council. His motto is "Standing Still, is a Step Backward". He is logical, enthusiastic, and very supportive of the player.
Professor Dr. Salman Devi arrives in the last mission of Chapter 1 in the Campaign, having been led to Site 13 by his quest to find the Virago, an early model Ark that disappeared for unknown reasons. Working with him, you successfully discover the final resting place of the Virago and extract its data log. Chapter 2 of the campaign is centered around Dr. Devi's efforts to decrypt the data log at C.O.R.E., the central research facility of the S.A.A.T., and the resulting effects on F.A.T.H.E.R., the AI director of S.A.A.T. Normally benign, the AI is driven mad by the data log, which includes a computer virus that, presumably, brought down the Virago. F.A.T.H.E.R.'s reaction to it is much more extreme, eventually leading to lashing out against the humans outside of C.O.R.E. (namely, the player's settlement), and, when forced to flee, unleashing nuclear weapons upon all settlements in his path. Dr. Devi and the player character spearhead the attempt to defeat F.A.T.H.E.R., leaving Dr. Tori Bartok to begin repairing the facilities at C.O.R.E., eventually enlisting the aid of both Global Trust and the Eden Initiative through their representatives, Mr. Rufus Thorne and Yana Rodriguez. Over the course of Chapter 3, Dr. Devi, along with Thorne and Rodriguez, offers support to the player as they assemble a war fleet capable of defeating F.A.T.H.E.R. and during the subsequent battle.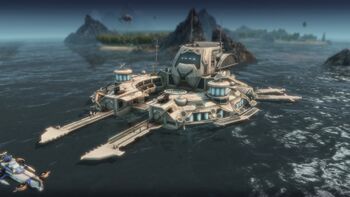 Residing in his Ark, Vortex, Dr. Devi will send out T38 Ocean Gliders to conduct trade and will buy Tech goods on sale. His Ark offers Tech goods and items, however he offers less goods up for trade than other NPCs do. His prices are lower than the other representatives', though.
He will buy high-end Tech goods for extremely high prices.
Interaction with other NPCs
[
edit
|
edit source
]
As a part of the Tech faction, he is aligned with Hiro Ebashi and Dr. Tori Bartok, although his relations with Hiro Ebashi are arguable and he'll sometimes even send quests to sabotage Hiro Ebashi (see his page for more information).
He likes players that trade with Rufus Thorne and Yana Rodriguez.
Dr. Devi appreciates the player trading or completing quests for both Rufus Thorne and Yana Rodriguez, as well as expanding your Tech population. There are not many things that can actually decrease influence with him not regarding failing quests, but going to war with Dr. Tori Bartok can impact it heavily.
Dr. Devi offers the following Diplomatic Actions: Lobbying, Demand Quest, Increased Demand, License Trading and Auxiliary Fleet. You can't declare war on him.
Increased Demand boosts the quantity of goods sold at Dr. Devi's warehouse for a set number of activations, as well as renews his current stock. It has a cooldown of 60 minutes.
License Trading exchanges your credits in return for Licenses.
Auxiliary Fleet calls in Submarines and Warships on your behalf. It has a cooldown of 120 minutes. The price and the set of ships depends on your current resident's level.
You are able to use Devi's portrait as your in-game appearance by reaching Level 6 at the Career Progression of S.A.A.T.. By reaching Level 2 you are also able to use Devi's Profile Colour (Blue) by yourself.
"I've always been of the opinion that certain ideologies restrict thinking far too much, so I did my utmost to remove myself from that equation. I am of the firm opinion that it's the unconventional that leads to advancements."
—About himself
"As Scientific Director of S.A.A.T., I of course have to worry about the organization of the Academy. It's a chore, frankly; there really are more exciting things to do than negotiate with potential sponsors about donations, don't you think?"
—About himself
"If you want to do something big, you sometimes have to cross certain boundaries. Only when one has broken his chains is the mind truly free to work on innovative ideas. Ultimately it was this attitude that got me where I am today."
—About himself
"S.A.A.T., the Scientific Academy of Advanced Technologies, is unique in the history of mankind. The most brilliant Scientists from all over the world united under one banner. We will prize the last secrets from the Earth for the good of humanity!"
—About S.A.A.T.
"S.A.A.T. employees specialize in combining existing knowledge in new and creative ways. Our work will raise humanity to the next stage of evolution!"
—About S.A.A.T.
"Advantage through Technology! The decoding of life! A new understanding of our world! S.A.A.T. employees are driven by this and much more. We're only just beginning, but our successes cannot be denied."
—About S.A.A.T.
"I know Rufus Thorne. An ambitious man! Result-orientated, stubborn. We have often worked together very successfully, Global Trust and S.A.A.T., that is... always to serve Science, you understand."
—About Rufus Thorne
"Mister Thorne is extremely generous where innovative Research projects are concerned, but he wants a successful outcome in return! No price is too high for him, as long as he gets exactly the results he wants."
—About Rufus Thorne
"Wasn't there some controversy surrounding Rodriguez? Didn't she infiltrate the Eden Initiative to bring down the organization? I was too busy to follow the story at the time; it turned out be a false alarm. Or was it?"
—About Yana Rodriguez
"I was recently involved in a debate on Nuclear power with Yana Rodriguez. She simply wouldn't admit that Wind turbines are not a viable alternative for supplying a City with Energy. I'm afraid she has no genuine interest in the efficient use of our Resources."
—About Yana Rodriguez
"Since this Barracuda League's Hector has appeared, there were more and more incidents of S.A.A.T. technology being stolen. Even an intervention at World council could not save us from these felonies. "
—About Hector
"In times like these even the science council of S.A.A.T. has to roll out the red carpet for the Barracuda League for negotiation. Though an intellectual discourse with this barbarian Hector is doomed to fail in the first place."
—About Hector
"I have to admit, this Trenchcoat would be an interesting study subject. He does not follow any rules of society, but still he can exist in it. But him being on and off the map all the time makes an empiric investigation impossible..."
—About Trenchcoat
"Everything this Trenchcoat has to offer is junk. Believe me: Only the academy sells technologies which are trendsetting."
—About Trenchcoat
"Did you know, that Leon Moreau has been working for Global Trust not too long ago? You are surprised now, aren't you? Well, there have been examples like this in psychology before: People making traumatic experiences becoming a completely different person."
—About Leon Morreau
"Leon Moreau is a man of extremes. A moderate behaviour does not seem to be effective to him to achieve his goals. Compromise is loathsome to him. Both of which could be his doom."
—About Leon Morreau
"Sokow Transnational amongst others belongs to the sponsors of S.A.A.T. However Sowoks participation is very humble... He did not understand, that he invests in the future if he supports us."
—About Vadim Sokow
"It was a big mistake to give Vadim Sokow the exclusive right for this special drill head. S.A.A.T. has classified this technology too pessimistically it seems…"
—About Vadim Sokow
"Tilda Jorgensen maintains that she can trace her family tree back to the 15th century, but looking at the historical evidence, I can hardly imagine there's much in her genetic make-up for her to be proud of."
—About Tilda Jorgensen
"It's blatantly obvious that Tilda Jorgensen's philosophy of life is diametrically opposite to that of S.A.A.T."
—About Tilda Jorgensen
"E.T.O. is only a passing whim. When Hiro Ebashi has got over his rebellious phase, he'll come running back to S.A.A.T. and be only too glad to share the fruits of his knowledge with us."
—About Hiro Ebashi
"Ebashi-san conceals his knowledge from us, maintaining that the world isn't ready for it yet. A tad presumptuous, don't you think? I mean, what is he supposed to have discovered down there in his observatory?"
—About Hiro Ebashi
"Keto's ignorance sometimes makes me angry. Where would Westgate be without S.A.A.T.'s military research, without her equipment? One can not get this woman to say "thank you"!"
—About Keto
"Keto constantly updates her arsenal with S.A.A.T equipment. It may be macabre, but she is one of our best advertising vehicles."
—About Keto
"Thor Strindbergs allegations that we would provoke war are unbearable! Armies often test new technologies to make life easier for the population!"
—About Thor Strindberg
"Pathetic how this Strindberg wallows in self-pity because of what happened at Plant 13. I also dislike it when experiments fail, but giving up because of that? He just has to learn to cope with failure."
—About Thor Strindberg
"When I discovered Tori's talent she was still a child, but she soon outstripped her contemporaries intellectually. I knew immediately that she would be a huge asset to S.A.A.T. And I was proven right."
—About Tori Bartok
"It saddens me that many members of S.A.A.T. still view Tori with some misgivings because she is so young and her brilliant mind puts everyone else's in the shade. Indeed, even intelligent people are obviously not immune to envy."
—About Tori Bartok
"'m so relieved we were able to rebuild and upgrade F.A.T.H.E.R.. The new F.A.T.H.E.R. 2.0 is without all the myriad little flaws with which we humans are afflicted. It was the right decision to replace our ethics committee with him."
—About F.A.T.H.E.R. 2.0
Community content is available under
CC-BY-SA
unless otherwise noted.