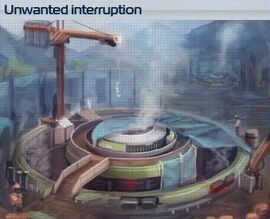 Unwanted interruption is the second mission in The Eden Project Global Event. Despite the fact that the first AI player (Vadim Sokow) opposing you appears in this mission, it is quite simple and similar to Mission 1.
Vadim Sokow appears in this mission for the first time during the event.
Difficulty: Medium
An area rich in Oil deposits with a number of defective Formers. Settle some Eco Engineers. Use some Bio Technicians on Islands with defective Formers. You must expect conflict with Sokow Transnational in this Sector.
Reach at least 150 Eco Employees (and repair the 1st defective Former with specialists)
Reach at least 750 Eco Engineers (and repair the 2nd defective Former with trained specialists)
Formula: Guardian 1.0 automation blueprints in the Academy (Ark upgrade to Guardian 1.0, reduces influence area).
150 Career Points for Tycoon, Eco or Tech's careers at player choice.
Video Walkthrough by YouTube user Leafonthewin
Community content is available under
CC-BY-SA
unless otherwise noted.