| | | |
| --- | --- | --- |
| | Yana Rodriguez | |





 https://anno2070.fandom.com/wiki/File:Rodriguez_talking.ogg


Characteristics
Environmentalist, supportive
Personality
Passive
Diplomatic Actions
Lobbying, Demand Quest, Take out a loan, License Trading, Auxiliary Fleet
Influence Factors
+Paving Green Boulevards, having a high Ecobalance, using renewable energy, having a large population of Eco executives


-Paving a lot Roads or Highways
"Yana Rodriguez - Yana to you. I represent the Eden Initiative. If you have any questions on environmental matters, please just come and ask."
—Yana Rodriguez in the game lobby
Yana Rodriguez is a non-expanding NPC, the operational manager for the network of influential, global environmental organizations, the Eden Initiative. She's supportive but brutal, and some ecos would rather see a more moderate spokesperson.
Background
[
]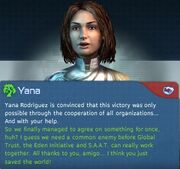 In a normal continuous game quest, called "Traces of the past", it is revealed that Yana's parents became missing after a big Ark accident (maybe the Virago). In the quest the she asks the player to recover the remains of the Ark and search for anything about her parents. At the end the player finds a souvenir from the disappeared parents, after it is given to Yana, she's very grateful, and she says she will keep it forever.
Appraisal in the Campaign
[
]
Yana Rodriguez plays an integral part in the Campaign. She can first be seen in Campaign One, Mission Three, when a natural disaster occurs at Global Trust. She and her men often appear and correct the mistakes that are made by their rival.
Activities
[
]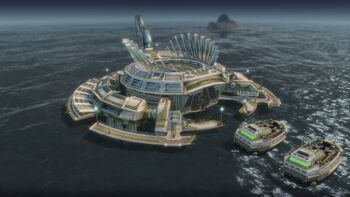 Residing in her Ark, Biosphere, Yana Rodriguez will send out Cargo Liners to trade with you and deal in Eco goods on sale. Her Ark offers Eco goods and items, including one Ark upgrade at all times.
Interaction with other NPCs
[
]
As she represents the faction opposing Global Trust her quests will sometimes call to hinder quests offered by Rufus Thorne, and will periodically call upon you to cease trading with him all together.
Diplomacy
[
]
Rodriguez likes you to build many Green Boulevards, to trade a lot with Prof. Dr. Salman Devi and to have a very high Ecobalance in the early stages of the game. She isn't pleased by many Highways or regular Roads, though. Trading a lot with Rufus Thorne or any other third party that's a part of Global Trust will decrease your influence as well.
She offers the following diplomatic actions: Lobbying, Demand Quest, Take out a loan, License Trading and Auxiliary Fleet. You can't declare war on her.
Take out a loan offers you an immediate amount of cash, which will have to be repaid over the course of the next 60 minutes in the form of a permanent negative balance hit.
License Trading exchanges your credits in return for Licenses.
Auxiliary Fleet calls in Warships on your behalf. It has a cooldown of 120 minutes. The price and the set of ships depends on your current resident's level.
Stub

This article is a

stub

, an article too short to provide more than rudimentary information about a subject. You can help the Anno 2070 Wiki by

expanding it

.
Bonus Content
[
]
You are able to use Rodriguez' portrait as your in-game appearance by reaching Level 6 at the Career Progression of the Eden Initiative. By reaching Level 2 you are also able to use Rodriguez' Profile Colour (Green) by yourself.
Character
[
]
"A lot of people think I'm not suitable as the Eden Initiative's representative because I speak my mind. Someone has to wake those lazy bureaucrats up and table the really important issues!"
—About herself
"I never was the kind of person to just sit on my hands. I want to do things, make a change! Sometimes my role as the Eden Initiative's representative stops me from doing just that. But when I get the chance, you can be sure that I'll grab it!"
—About herself
"I don't like compromises, because more often than not it means that someone has to betray their principles. But to do my job well, I must be willing to compromise and accommodate others… That can be extremely difficult sometimes, believe me!"
—About herself
"Green himself "nominated" me as a candidate for the Eden Initiative representative, but the election was still a close run thing. Situations change, and the old man doesn't have nearly as much as say as he used to."
—About Eden Initiative
"The Eden Initiative has become the governing body of all the environmental organizations almost overnight. But where has that got us? Our own damn bureaucracy hampers our actions and if Green doesn't do something about it, I will!"
—About Eden Initiative
"I'm not stupid. Green's using me as a battering ram against opposition both internally and externally. So what? I have a thick skin. Once he's gone, I'm going to be the one calling the shots!"
—About Eden Initiative
"Rufus Thorne is highly intelligent, but you know the really dangerous thing about him? He'll do anything to impress the Board of Global Trust… And I mean that literally."
—About Rufus Thorne
"Sometimes I feel that Thorne is really more of a softie under that hard shell of his than he wants to admit, but he's a master at hiding it."
—About Rufus Thorne
"Professor Devi doesn't seem particularly happy about all his organizational duties. I don't think they did him any favors by appointing him Science Director at S.A.A.T.."
—About Dr. Salman Devi
"Professor Devi is willing to resort to almost any means to promote S.A.A.T.'s Research. So it seems you don't have to have conscience to make a name for yourself in Science."
—About Dr. Salman Devi
"Hector is often railing about the bad state of the Barracuda League, that they only act out of desperation. But with so many Ships being captured, or simply disappearing... It can't be as bad as all that for them."
—About Hector
"It's clear to me why the Barracuda League chose Hector as their official spokesman. He's probably the only Pirate who can express their convoluted demands in a way that makes you sit and listen to his endless tirades."
—About Hector
"Financial considerations aside, Trenchcoat is undoubtedly useful, but the provenance of his Goods is pretty dubious. I'm sure I heard mention of the Black market... I must uphold the good reputation of the Initiative but you have more leeway in this respect than I..."
—About Trenchcoat
"That Black market Trader is interested in some bizarre things. The weirder and more wonderful they may seem to us, the higher the price Trenchcoat is prepared to pay..."
—About Trenchcoat
"Leon is fighting for the right cause, even though he's way off the target. As a small group of activists, the Green Offensive can afford to do things that would spell the Eden Initiative's downfall!"
—About Leon Morreau
"Some time ago, the boss wanted the Green Offensive to join the Eden Initiative, as most other environmental organizations have done. But Moreau refused owing to personal, irreconcilable differences."
—About Leon Morreau
"Vadim Sokow whines on about the monopoly of his forebears, but doesn't see that his entire Crude oil business is like a house of cards that has just collapsed. "
—About Vadim Sokow
"They should rename Sokow Transnational "Rampaging Locusts & Co": the Ecosystem is destroyed wherever they turn up, with no consideration for the losses."
—About Vadim Sokow
"Tilda appears naive to other people with her "back to the roots" mentality, but she's essentially right: belief in progress has ultimately brought us to where we are now, and it's obviously a one-way street."
—About Tilda Jorgensen
"The Eden Initiative would like to integrate Tilda's cooperative into the organization, but Tilda wants to remain independent. Well... One day she'll realize that her plan is maybe one size too big for her, and then we'll be right there."
—About Tilda Jorgensen
"I heard Hiro Ebashi had fallen out with Professor Devi and left S.A.A.T. as a result. That doesn't surprise me; when two obstinate mavericks like that clash, no one goes home without a black eye."
—About Hiro Ebashi
"The Eden Initiative doesn't want to exploit deep-sea Resources, but to learn how this last remaining virgin Ecosystem can be protected! But Ebashi is refusing to cooperate and we run the risk that others less principled than us will beat us to the punch."
—About Hiro Ebashi
"I could never go to War against someone and risk my life or the lives of others just because someone told me to! But Keto seems to be able switch any personal feelings off when she accepts an assignment."
—About Keto
"Westgate Security only state-of-the-art Technology in its Weapons systems. Keto could never afford that kind of equipment from her missions alone, but when the question of just who's backing her comes up, the woman keeps her mouth shut tight..."
—About Keto
"Thor Strindberg is convinced he's a loser. He made such a mess of that business with the Dam that Global Trust declined any future joint ventures with him. Since then, he often has this crazy, glazed look on his face, although he thinks no one notices it."
—About Thor Strindberg
"There's only one thing that springs to mind about Strindberg: anyone who places a knife in the hands of a lunatic shouldn't be surprised if he stabs someone with it."
—About Thor Strindberg
"S.A.A.T. considers Doctor Bartok an infallible super genius. I can well imagine what kind of pressure that puts her under. She's only human… With faults and weaknesses."
—About Tori Bartok
"I really envy Tori Bartok for her job in the S.P.I.R.I.T. project. She works with highly motivated people, is right in the thick of it and make as big a contribution as she likes. There's no way she has to spend most of her time in boring meetings listening to the organization's management droning on."
—About Tori Bartok